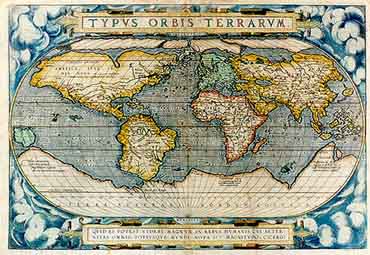 Introduction
Welcome to Cartographica Neerlandica. We, that is Dr. Marcel van den Broecke and Dr. Deborah van den Broecke-Günzburger, sell old maps, and also publish articles and books about them. We specialise in atlas maps by Ortelius (1527-1598), which appeared in his atlas Theatrum Orbis Terrarum. This was the first "modern" atlas published. We can offer almost all maps that appeared in this atlas, and have various copies of each of them.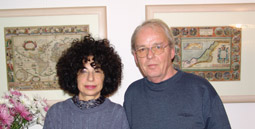 We have other maps as well, dating from as early as 1493, for instance many woodcut maps and views from Schedel's Liber Chronicarum, to maps from the 18th century.
You can look at all our maps in stock.
You can read background material on Ortelius' maps.
New: "Abraham Ortelius (1527-1598) Life, Works, Sources and Friends"
Marcel van den Broecke (2015), "Abraham Ortelius (1527-1598) Life, Works, Sources and Friends." Not unlike Ortelius, we have become our own publisher to keep the price down and to increase the accessibility of the book: Cartographica Neerlandica, Bilthoven, Netherlands, ISBN 978-90-9029486-5 379 pages, 2.3 kg, large folio, including DVD with facsimiles of Album Amicorum (1598), Deorum Deaerumque Capita, 2nd edition, (1582) and text Sources and Friends, 444 pp. Illustrations: 4 in colour on dust jacket, and 293 b/w.
Price: €89.50.
An additional €5 will be charged for registered mail.
Contacting us
Marcel and Deborah van den Broecke
---
For comments or questions concerning this page, please send an email to
info@orteliusmaps.com
.